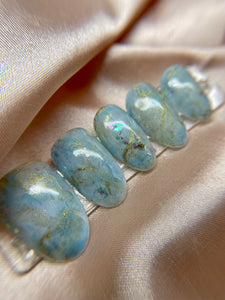 Look at these fancy Blue Marbles! Give yourself a stylish finger flair with these marble-ous press-ons. Fit for fingers of all sizes! Step up your style game! (And make all your friends jealous!)
Our blue marbled nail is featured in a short rounded style, which provides little to moderate additional length to the natural nail  
Beautifully Golden press ons have a flex form to naturally move with the strength of your own nail. Hello nail growth goals!
Application and Removal Instructions are also provided for short term and long term wear!
ALL NAILS ARE FINAL SALE
Tiffany W.
"Dashia is the natural nail GOAT (Period)."
Tasha P.
"I have never been more happy with my natural nails. They have grown so much everyone thinks I have falsies. I love it!!"
Lucy S.
"If you desire healthy nails that are beautiful and one of a kind Beautifully Golden is the place!"