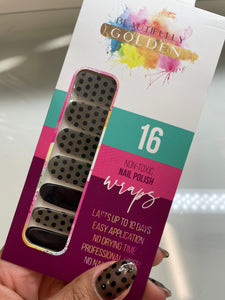 Get the perfect mani without ever leaving your home with these DIY Black Polka Dot Nail Wraps - just pick, stick, and go! Step up your mani game with a style that's easy to apply and looks like you just stepped out of the salon!
These nail wraps are crafted with a translucent black background and  opaque black polka dots on top for a fun polished design.
Tiffany W.
"Dashia is the natural nail GOAT (Period)."
Tasha P.
"I have never been more happy with my natural nails. They have grown so much everyone thinks I have falsies. I love it!!"
Lucy S.
"If you desire healthy nails that are beautiful and one of a kind Beautifully Golden is the place!"