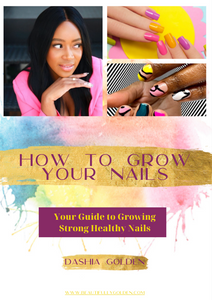 This guide is a helpful resource to help you grow strong, beautiful healthy nails. You will learn how to care for your nails to achieve the length you naturally desire. From everyday practices to nail cures and quick tips, this guide will help you achieve your natural nail goals in no time.
Tiffany W.
"Dashia is the natural nail GOAT (Period)."
Tasha P.
"I have never been more happy with my natural nails. They have grown so much everyone thinks I have falsies. I love it!!"
Lucy S.
"If you desire healthy nails that are beautiful and one of a kind Beautifully Golden is the place!"