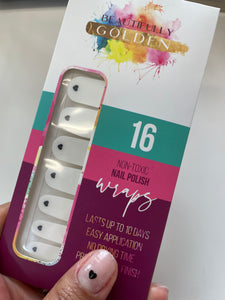 Spread the love with this simple & sweet heart nail wrap design! Perfect for a subtle but statement-making look that lasts up to 10 days. Get creative & express yourself with this DIY nail wrap! Perfect for any occasion!
Tiffany W.
"Dashia is the natural nail GOAT (Period)."
Tasha P.
"I have never been more happy with my natural nails. They have grown so much everyone thinks I have falsies. I love it!!"
Lucy S.
"If you desire healthy nails that are beautiful and one of a kind Beautifully Golden is the place!"